And with that, I've finally finished chronicling last year's trip – just in time for the next one!
Hey folks! Just thought I'd let you know I've set up a Patreon campaign for my various comics. If you've been enjoying Sloths and Trolleys, Jenny Music, or any of the other stuff I've been making then please consider supporting them by becoming a patron. Even just a small pledge makes a difference!
You can also get early access to new strips, Patreon-exclusive sketches, and possibly even a say in which projects I work on in the future.
And as an extra bonus – the first ten patrons will go into a draw to receive a unique one-off illustration as a hi-res PDF (The winner will be selected at random once ten people sign up, so get in quick if you want to win).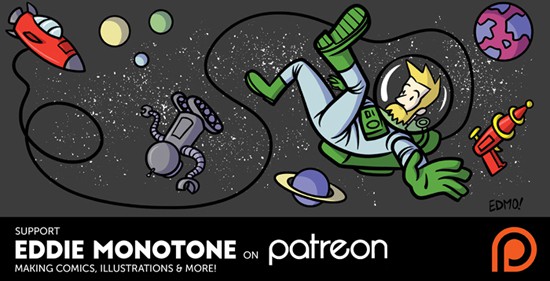 They're here! Sloths and Trolleys mini-comics are now on sale – check them out over here. 24 pages, A5, featuring a selection of strips from the last couple of years. There's limited numbers, so better get in quick if you'd like a copy!